Iris Lapalme and David Glasser are getting married!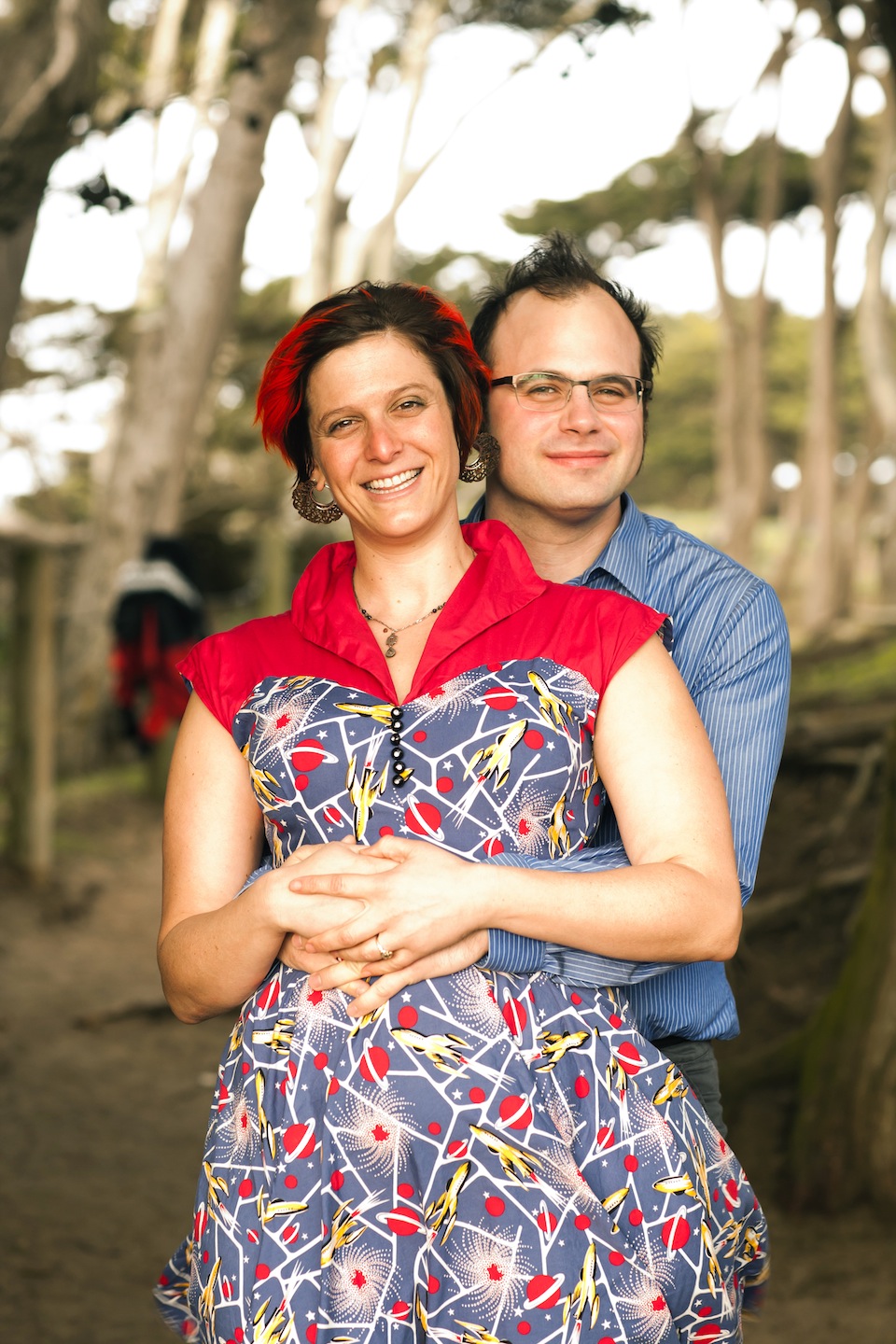 Our wedding will be at the Amphitheatre of the Redwoods at Pema Osel Ling in the mountains outside Santa Cruz, California.
The ceremony and reception start at 4:30 PM on Saturday July 12th, 2014.
We also invite you to join us on Saturday starting at noon for an afternoon pool party, lawn games, and chill tunes. On Sunday, please join us for brunch at 10:00.
We have reserved the retreat's campground for tent camping from Friday afternoon through Sunday morning.
Please RSVP by May 1st!
Where is it?
We are getting married at Pema Osel Ling, a retreat center near Santa Cruz run by the Buddhist Vajrayana Foundation.
The nearest airports are San Jose (about an hour away) and San Francisco (about 1.5-2 hours away); Oakland airport is a little farther than SFO.
POL's address is 2013 Eureka Canyon Road, Corralitos, CA, 95076. Directions on Google Maps and other websites may give you a bad route: avoid any directions that use Highland and Summit Road. Instead, follow these directions from Pema Osel Ling's website:
Take Highway 17 south to Santa Cruz.
In Santa Cruz, head south on Highway 1.
Take the Freedom Boulevard exit and go left over the freeway.
After 5 miles, you will come to a stop sign where you will make a left on Corralitos Road.
Follow Corralitos Road for 2 miles.
At the four-way stop sign the road becomes Eureka Canyon.
Go straight and continue for 6.7 miles.
Pema Osel Ling is on the left side, with a big blue and gold sign posted at the entrance.
Can I get (or offer) a ride?
In the interest of minimizing unnecessary car rentals, welcoming out-of-town guests, and improve parking congestion at the site, Iris' mother Ellen Lewis has volunteered to help coordinate ride sharing to and from the airports. If you are flying in just for the wedding and are interested in finding a ride, or if you're willing to give a ride to somebody else, email her at yerbasanta@gmail.com, Ellen will facilitate contact between those needing rides and those offering.
Drivers: If you are planning to rent a car when you land at the airport and would like to share it, or if you would be able to stop by either SFO, OAK, or SJC on your way to Pema Osel Ling, let Ellen know:
Whether you can drive to or from the wedding or round trip.
When you can be at the airport, and which airport
When you expect to arrive on site
How many passengers you have room for
Riders: If you need a ride, or simply would like to travel with others, let Ellen know:
Whether you need a ride round trip or one way (and which way)
What time your flight is expected to arrive/depart
What airport
How many are in your party
Local Carpoolers: If you are already in the Bay Area and would like to carpool with other locals, let Ellen know:
Your neighborhood
Your travel schedule
How many in your party need a ride, or how many vacant seats in your vehicle
Where should I stay?
Camping at the wedding
Many of our favorite memories are of camping with our friends, and we would like to bring a little of that spirit to our wedding. We have reserved the retreat's campground for tent camping from Friday afternoon through Sunday morning and we would love for you to join us for the whole weekend in the woods. The campground has bathrooms with showers. We will have access to a limited supply of camping equipment (tent, sleeping bag, sleeping pad, pillow) for those who either don't have their own supplies or can't bring them from afar. When you RSVP, you can tell us if you're interested in camping. If you change your mind after RSVPing, please let us know; we'll be sending email closer to the date with more details about what to expect. Please do not contact Pema Osel Ling directly with questions about camping.
Hotel block
For those interested in a more indoor experience, we have a discounted room rate available at the Best Western Plus Seacliff Inn in Aptos, CA. (Our block of reserved rooms expired on May 12, but the discounted rate is still available. Note that other parties may have unexpired blocks for that weekend, so if you attempt to make this reservation and they have no availability, you can ask them when another party's block will expire.)
Call the hotel at 831-688-7300 and ask for Reservations. Tell them that you are with the Lapalme and Glasser Wedding Party. The rates are:
Thursday, July 10th

2 queen beds or 1 king bed w/ parking lot view: $143.99
2 queen beds or 1 king bed w/ pool-courtyard view: $161.99

Friday, July 11th and Saturday, July 12th

2 queen beds or 1 king bed w/ parking lot view: $170.99 per night
2 queen beds or 1 king bed w/ pool-courtyard view: $188.99 per night
A complimentary hot buffet breakfast is included.
Additionally, the Santa Cruz area has many other hotels of various kinds.
We will provide shuttles from the Best Western to POL and back on Saturday; more details here later. (Unfortunately, there is nowhere to park at the Best Western unless you are staying there, so if you are staying somewhere else in the area, the shuttle may not be useful to you.)
What's happening when?
Whether you're camping with us for the whole weekend or can only make it for the ceremony and reception, we'd love to see you! We've got a lot planned for the weekend; here's the hour-by-hour breakdown. Everything listed is at Pema Osel Ling.
Friday, July 11th

Early morning: take a bachelor bike ride with David from Caltrain to the wedding! Email Max Davis at max.davis@gmail.com if you're interested in joining for an approximately 33 mile, 3300 ft elevation ride. Aiming to take the 324 Caltrain which departs SF at 8:14AM and Millbrae at 8:32. We'll work out logistics for getting your luggage there too.
6 PM: If you're camping with us Friday night, the gates open at 6 PM! Show up and set up camp (sunset is 8:30).
~8 PM (precise time TBA): Friday night fun! We'll provide some snacks, drinks, and games, and encourage you to bring some to share as well! (Note: while there will be some food here, you may want to eat dinner before arriving.)

Saturday, July 12th

10 AM: Brunch for those staying on site.
Noon: Pool party! Bring your bathing suit! We'll have lawn games (or bring your own), chill music, and lemonade. Just what you want on a summer afternoon. Featuring music by our friends 1974, Ganucheau, and Dr. Toast.
4:30 PM: Wedding ceremony under the redwoods, officiated by Rabbi Sara Shendelman.
5 PM: Cocktail hour.
6:30 PM: Reception and dinner on the meadow.
10 PM: The After-Party: more dancing into the wee hours. Featuring music by our friends The Naturalist, Tones, Evolutionista, j0, and Ganucheau.

Sunday, July 13th:

10 AM: We invite all of our guests (whether or not you are camping with us) to join us for a Sunday brunch.
Noon: Guests depart Pema Osel Ling by noon.
What should I wear?
Weather in Northern California typically ranges from very warm to quite chilly at night, so bring layers! For the ceremony and reception, we'll be dressing up, but the rest of the weekend is casual. Pema Osel Ling is mostly outdoors and on a hillside, so flats are recommended. It will be sunny in the afternoon, so if this bothers you, bring a sun hat or parasol.
And don't forget your bathing suit for the pool party!
For those not staying on site, there will be an area to leave a bag during the day and to change clothes between the pool party and ceremony; there are also showers available.
May I bring my children? A guest? A pet?
We'd love you to bring your children (age 15 or under) to as much of the wedding as you'd like! They are welcome for the entire weekend. Just be sure to list their names and ages while RSVPing. Please be aware that there is no lifeguard, so make sure your children are appropriately supervised around the pool and pond.
And as far as bringing a +1 goes... our second date was a weekend-long road trip to a wedding in Humboldt County! So we invite you to bring your significant other, as long as you let us know when RSVPing!
Unfortunately, we ask that you leave your dogs, cats, fish, gerbils, snakes, and so forth at home.
Anything else I should know about Pema Osel Ling?
Do not expect there to be any cell phone reception on site; there is a pay phone available if necessary.
No smoking of any kind is allowed on the property. You may walk out to Eureka Canyon Road and smoke there. Anyone smoking will be asked to leave the property and not return. Use of any non-medicinal drugs is not permitted. (You may, however, bring your own alcohol. We will have a full bar at the reception and will have some drinks at other parts of the weekend, but you are encouraged to BYOB, especially for Friday night and Saturday afternoon.)
In order to respect Pema Osel Ling's Tibetan tradition, shoes are not allowed within several of the buildings; please respect signs on these buildings. Please refrain from killing any living creatures, including insects.
Camp stoves, propane lanterns, and fire of any kind are not allowed on site (except in the designated bonfire pit).
There are several bathrooms with running water and showers available at all times. There is filtered water available to drink.
Do you have a registry?
We have been living together for several years, and are fortunate enough to have everything we need for our current apartment, so we would prefer no gifts of physical items. We would be honored by donations to some of our favorite causes, such as the East Bay SPCA, the SF-Marin Food Bank, or Planned Parenthood. We would also appreciate contributions towards our future home. But the greatest gift of all will be enjoying the weekend in the woods with you.
How do I get in touch with you?
Email us at wedding@irisanddavid.com!
Our mailing address is:
Iris Lapalme and David Glasser
863 Florida Street
San Francisco, CA 94110
Do you have any more pictures?
Why yes, we do!
All pictures on this page are by our friend Jessica Palopoli. (If you have any pictures you like of us that you'd like to see here, we would love to add them! Just drop us a line at wedding@irisanddavid.com!)
Here's a few shots from the ruins of Sutro Baths in San Francisco:
And here's one she took of us at the Burning Man festival: